[02-Jun-2017 10:07:44 America/Chicago] PHP Warning: PHP Startup: magickwand: Unable to initialize module Module compiled with module API=20060613 PHP compiled with module API=20090626 These options need to match in Unknown on line 0 [02-Jun-2017 10:07:44 America/Chicago] PHP Warning: PHP Startup: imagick: Unable to initialize module Module compiled with module API=20060613 PHP compiled with module API=20090626 These options need to match in Unknown on line 0 [02-Jun-2017 10:07:44 America/Chicago] PHP Warning: PHP Startup: PDO: Unable to initialize module Module compiled with module API=20060613 PHP compiled with module API=20090626 These options need to match in Unknown on line 0 [02-Jun-2017 10:07:44 America/Chicago] PHP Warning: PHP Startup: pdo_sqlite: Unable to initialize module Module compiled with module API=20060613 PHP compiled with module API=20090626 These options need to match in Unknown on line 0 [02-Jun-2017 10:07:44 America/Chicago] PHP Warning: PHP Startup: Unable to load dynamic library '/opt/php52/lib/php/extensions/no-debug-non-zts-20060613/sqlite.so' - /opt/php52/lib/php/extensions/no-debug-non-zts-20060613/sqlite.so: undefined symbol: third_arg_force_ref in Unknown on line 0 [02-Jun-2017 10:07:44 America/Chicago] PHP Warning: PHP Startup: Unable to load dynamic library '/opt/php52/lib/php/extensions/no-debug-non-zts-20060613/pdo_mysql.so' - libssl.so.0.9.8: cannot open shared object file: No such file or directory in Unknown on line 0 [02-Jun-2017 10:07:44 America/Chicago] PHP Warning: PHP Startup: SourceGuardian: Unable to initialize module Module compiled with module API=20060613 PHP compiled with module API=20090626 These options need to match in Unknown on line 0 [02-Jun-2017 10:07:44 America/Chicago] PHP Deprecated: Directive 'register_globals' is deprecated in PHP 5.3 and greater in Unknown on line 0 [02-Jun-2017 10:07:44 America/Chicago] PHP Fatal error: Call to undefined function __() in /home3/regmount/public_html/possibiliteas.co/wp-content/plugins/gold-cart_plugin-2.9.7.8/merchants/dps.php on line 2 [02-Jun-2017 10:12:56 America/Chicago] PHP Warning: PHP Startup: magickwand: Unable to initialize module Module compiled with module API=20060613 PHP compiled with module API=20090626 These options need to match in Unknown on line 0 [02-Jun-2017 10:12:56 America/Chicago] PHP Warning: PHP Startup: imagick: Unable to initialize module Module compiled with module API=20060613 PHP compiled with module API=20090626 These options need to match in Unknown on line 0 [02-Jun-2017 10:12:56 America/Chicago] PHP Warning: PHP Startup: PDO: Unable to initialize module Module compiled with module API=20060613 PHP compiled with module API=20090626 These options need to match in Unknown on line 0 [02-Jun-2017 10:12:56 America/Chicago] PHP Warning: PHP Startup: pdo_sqlite: Unable to initialize module Module compiled with module API=20060613 PHP compiled with module API=20090626 These options need to match in Unknown on line 0 [02-Jun-2017 10:12:56 America/Chicago] PHP Warning: PHP Startup: Unable to load dynamic library '/opt/php52/lib/php/extensions/no-debug-non-zts-20060613/sqlite.so' - /opt/php52/lib/php/extensions/no-debug-non-zts-20060613/sqlite.so: undefined symbol: third_arg_force_ref in Unknown on line 0 [02-Jun-2017 10:12:56 America/Chicago] PHP Warning: PHP Startup: Unable to load dynamic library '/opt/php52/lib/php/extensions/no-debug-non-zts-20060613/pdo_mysql.so' - libssl.so.0.9.8: cannot open shared object file: No such file or directory in Unknown on line 0 [02-Jun-2017 10:12:56 America/Chicago] PHP Warning: PHP Startup: SourceGuardian: Unable to initialize module Module compiled with module API=20060613 PHP compiled with module API=20090626 These options need to match in Unknown on line 0 [02-Jun-2017 10:12:56 America/Chicago] PHP Deprecated: Directive 'register_globals' is deprecated in PHP 5.3 and greater in Unknown on line 0 [02-Jun-2017 10:12:56 America/Chicago] PHP Fatal error: Call to undefined function plugin_dir_path() in /home3/regmount/public_html/possibiliteas.co/wp-content/plugins/gold-cart_plugin-2.9.7.8/merchants/auth_net.php on line 4 [02-Jun-2017 10:25:27 America/Chicago] PHP Warning: PHP Startup: magickwand: Unable to initialize module Module compiled with module API=20060613 PHP compiled with module API=20090626 These options need to match in Unknown on line 0 [02-Jun-2017 10:25:27 America/Chicago] PHP Warning: PHP Startup: imagick: Unable to initialize module Module compiled with module API=20060613 PHP compiled with module API=20090626 These options need to match in Unknown on line 0 [02-Jun-2017 10:25:27 America/Chicago] PHP Warning: PHP Startup: PDO: Unable to initialize module Module compiled with module API=20060613 PHP compiled with module API=20090626 These options need to match in Unknown on line 0 [02-Jun-2017 10:25:27 America/Chicago] PHP Warning: PHP Startup: pdo_sqlite: Unable to initialize module Module compiled with module API=20060613 PHP compiled with module API=20090626 These options need to match in Unknown on line 0 [02-Jun-2017 10:25:27 America/Chicago] PHP Warning: PHP Startup: Unable to load dynamic library '/opt/php52/lib/php/extensions/no-debug-non-zts-20060613/sqlite.so' - /opt/php52/lib/php/extensions/no-debug-non-zts-20060613/sqlite.so: undefined symbol: third_arg_force_ref in Unknown on line 0 [02-Jun-2017 10:25:27 America/Chicago] PHP Warning: PHP Startup: Unable to load dynamic library '/opt/php52/lib/php/extensions/no-debug-non-zts-20060613/pdo_mysql.so' - libssl.so.0.9.8: cannot open shared object file: No such file or directory in Unknown on line 0 [02-Jun-2017 10:25:27 America/Chicago] PHP Warning: PHP Startup: SourceGuardian: Unable to initialize module Module compiled with module API=20060613 PHP compiled with module API=20090626 These options need to match in Unknown on line 0 [02-Jun-2017 10:25:27 America/Chicago] PHP Deprecated: Directive 'register_globals' is deprecated in PHP 5.3 and greater in Unknown on line 0 [02-Jun-2017 10:25:27 America/Chicago] PHP Fatal error: Call to undefined function __() in /home3/regmount/public_html/possibiliteas.co/wp-content/plugins/gold-cart_plugin-2.9.7.8/merchants/sagepay.php on line 3 [02-Jun-2017 10:27:39 America/Chicago] PHP Warning: PHP Startup: magickwand: Unable to initialize module Module compiled with module API=20060613 PHP compiled with module API=20090626 These options need to match in Unknown on line 0 [02-Jun-2017 10:27:39 America/Chicago] PHP Warning: PHP Startup: imagick: Unable to initialize module Module compiled with module API=20060613 PHP compiled with module API=20090626 These options need to match in Unknown on line 0 [02-Jun-2017 10:27:39 America/Chicago] PHP Warning: PHP Startup: PDO: Unable to initialize module Module compiled with module API=20060613 PHP compiled with module API=20090626 These options need to match in Unknown on line 0 [02-Jun-2017 10:27:39 America/Chicago] PHP Warning: PHP Startup: pdo_sqlite: Unable to initialize module Module compiled with module API=20060613 PHP compiled with module API=20090626 These options need to match in Unknown on line 0 [02-Jun-2017 10:27:39 America/Chicago] PHP Warning: PHP Startup: Unable to load dynamic library '/opt/php52/lib/php/extensions/no-debug-non-zts-20060613/sqlite.so' - /opt/php52/lib/php/extensions/no-debug-non-zts-20060613/sqlite.so: undefined symbol: third_arg_force_ref in Unknown on line 0 [02-Jun-2017 10:27:39 America/Chicago] PHP Warning: PHP Startup: Unable to load dynamic library '/opt/php52/lib/php/extensions/no-debug-non-zts-20060613/pdo_mysql.so' - libssl.so.0.9.8: cannot open shared object file: No such file or directory in Unknown on line 0 [02-Jun-2017 10:27:39 America/Chicago] PHP Warning: PHP Startup: SourceGuardian: Unable to initialize module Module compiled with module API=20060613 PHP compiled with module API=20090626 These options need to match in Unknown on line 0 [02-Jun-2017 10:27:40 America/Chicago] PHP Deprecated: Directive 'register_globals' is deprecated in PHP 5.3 and greater in Unknown on line 0 [02-Jun-2017 10:49:31 America/Chicago] PHP Warning: PHP Startup: magickwand: Unable to initialize module Module compiled with module API=20060613 PHP compiled with module API=20090626 These options need to match in Unknown on line 0 [02-Jun-2017 10:49:31 America/Chicago] PHP Warning: PHP Startup: imagick: Unable to initialize module Module compiled with module API=20060613 PHP compiled with module API=20090626 These options need to match in Unknown on line 0 [02-Jun-2017 10:49:31 America/Chicago] PHP Warning: PHP Startup: PDO: Unable to initialize module Module compiled with module API=20060613 PHP compiled with module API=20090626 These options need to match in Unknown on line 0 [02-Jun-2017 10:49:31 America/Chicago] PHP Warning: PHP Startup: pdo_sqlite: Unable to initialize module Module compiled with module API=20060613 PHP compiled with module API=20090626 These options need to match in Unknown on line 0 [02-Jun-2017 10:49:31 America/Chicago] PHP Warning: PHP Startup: Unable to load dynamic library '/opt/php52/lib/php/extensions/no-debug-non-zts-20060613/sqlite.so' - /opt/php52/lib/php/extensions/no-debug-non-zts-20060613/sqlite.so: undefined symbol: third_arg_force_ref in Unknown on line 0 [02-Jun-2017 10:49:31 America/Chicago] PHP Warning: PHP Startup: Unable to load dynamic library '/opt/php52/lib/php/extensions/no-debug-non-zts-20060613/pdo_mysql.so' - libssl.so.0.9.8: cannot open shared object file: No such file or directory in Unknown on line 0 [02-Jun-2017 10:49:31 America/Chicago] PHP Warning: PHP Startup: SourceGuardian: Unable to initialize module Module compiled with module API=20060613 PHP compiled with module API=20090626 These options need to match in Unknown on line 0 [02-Jun-2017 10:49:31 America/Chicago] PHP Deprecated: Directive 'register_globals' is deprecated in PHP 5.3 and greater in Unknown on line 0 [02-Jun-2017 10:55:41 America/Chicago] PHP Warning: PHP Startup: magickwand: Unable to initialize module Module compiled with module API=20060613 PHP compiled with module API=20090626 These options need to match in Unknown on line 0 [02-Jun-2017 10:55:41 America/Chicago] PHP Warning: PHP Startup: imagick: Unable to initialize module Module compiled with module API=20060613 PHP compiled with module API=20090626 These options need to match in Unknown on line 0 [02-Jun-2017 10:55:41 America/Chicago] PHP Warning: PHP Startup: PDO: Unable to initialize module Module compiled with module API=20060613 PHP compiled with module API=20090626 These options need to match in Unknown on line 0 [02-Jun-2017 10:55:41 America/Chicago] PHP Warning: PHP Startup: pdo_sqlite: Unable to initialize module Module compiled with module API=20060613 PHP compiled with module API=20090626 These options need to match in Unknown on line 0 [02-Jun-2017 10:55:41 America/Chicago] PHP Warning: PHP Startup: Unable to load dynamic library '/opt/php52/lib/php/extensions/no-debug-non-zts-20060613/sqlite.so' - /opt/php52/lib/php/extensions/no-debug-non-zts-20060613/sqlite.so: undefined symbol: third_arg_force_ref in Unknown on line 0 [02-Jun-2017 10:55:41 America/Chicago] PHP Warning: PHP Startup: Unable to load dynamic library '/opt/php52/lib/php/extensions/no-debug-non-zts-20060613/pdo_mysql.so' - libssl.so.0.9.8: cannot open shared object file: No such file or directory in Unknown on line 0 [02-Jun-2017 10:55:41 America/Chicago] PHP Warning: PHP Startup: SourceGuardian: Unable to initialize module Module compiled with module API=20060613 PHP compiled with module API=20090626 These options need to match in Unknown on line 0 [02-Jun-2017 10:55:41 America/Chicago] PHP Deprecated: Directive 'register_globals' is deprecated in PHP 5.3 and greater in Unknown on line 0 [04-Jun-2017 11:20:52 America/Chicago] PHP Warning: PHP Startup: magickwand: Unable to initialize module Module compiled with module API=20060613 PHP compiled with module API=20090626 These options need to match in Unknown on line 0 [04-Jun-2017 11:20:52 America/Chicago] PHP Warning: PHP Startup: imagick: Unable to initialize module Module compiled with module API=20060613 PHP compiled with module API=20090626 These options need to match in Unknown on line 0 [04-Jun-2017 11:20:52 America/Chicago] PHP Warning: PHP Startup: PDO: Unable to initialize module Module compiled with module API=20060613 PHP compiled with module API=20090626 These options need to match in Unknown on line 0 [04-Jun-2017 11:20:52 America/Chicago] PHP Warning: PHP Startup: pdo_sqlite: Unable to initialize module Module compiled with module API=20060613 PHP compiled with module API=20090626 These options need to match in Unknown on line 0 [04-Jun-2017 11:20:52 America/Chicago] PHP Warning: PHP Startup: Unable to load dynamic library '/opt/php52/lib/php/extensions/no-debug-non-zts-20060613/sqlite.so' - /opt/php52/lib/php/extensions/no-debug-non-zts-20060613/sqlite.so: undefined symbol: third_arg_force_ref in Unknown on line 0 [04-Jun-2017 11:20:52 America/Chicago] PHP Warning: PHP Startup: Unable to load dynamic library '/opt/php52/lib/php/extensions/no-debug-non-zts-20060613/pdo_mysql.so' - libssl.so.0.9.8: cannot open shared object file: No such file or directory in Unknown on line 0 [04-Jun-2017 11:20:52 America/Chicago] PHP Warning: PHP Startup: SourceGuardian: Unable to initialize module Module compiled with module API=20060613 PHP compiled with module API=20090626 These options need to match in Unknown on line 0 [04-Jun-2017 11:20:52 America/Chicago] PHP Deprecated: Directive 'register_globals' is deprecated in PHP 5.3 and greater in Unknown on line 0 [04-Jun-2017 11:26:45 America/Chicago] PHP Warning: PHP Startup: magickwand: Unable to initialize module Module compiled with module API=20060613 PHP compiled with module API=20090626 These options need to match in Unknown on line 0 [04-Jun-2017 11:26:45 America/Chicago] PHP Warning: PHP Startup: imagick: Unable to initialize module Module compiled with module API=20060613 PHP compiled with module API=20090626 These options need to match in Unknown on line 0 [04-Jun-2017 11:26:45 America/Chicago] PHP Warning: PHP Startup: PDO: Unable to initialize module Module compiled with module API=20060613 PHP compiled with module API=20090626 These options need to match in Unknown on line 0 [04-Jun-2017 11:26:45 America/Chicago] PHP Warning: PHP Startup: pdo_sqlite: Unable to initialize module Module compiled with module API=20060613 PHP compiled with module API=20090626 These options need to match in Unknown on line 0 [04-Jun-2017 11:26:45 America/Chicago] PHP Warning: PHP Startup: Unable to load dynamic library '/opt/php52/lib/php/extensions/no-debug-non-zts-20060613/sqlite.so' - /opt/php52/lib/php/extensions/no-debug-non-zts-20060613/sqlite.so: undefined symbol: third_arg_force_ref in Unknown on line 0 [04-Jun-2017 11:26:45 America/Chicago] PHP Warning: PHP Startup: Unable to load dynamic library '/opt/php52/lib/php/extensions/no-debug-non-zts-20060613/pdo_mysql.so' - libssl.so.0.9.8: cannot open shared object file: No such file or directory in Unknown on line 0 [04-Jun-2017 11:26:45 America/Chicago] PHP Warning: PHP Startup: SourceGuardian: Unable to initialize module Module compiled with module API=20060613 PHP compiled with module API=20090626 These options need to match in Unknown on line 0 [04-Jun-2017 11:26:45 America/Chicago] PHP Deprecated: Directive 'register_globals' is deprecated in PHP 5.3 and greater in Unknown on line 0 [04-Jun-2017 11:26:45 America/Chicago] PHP Fatal error: Call to undefined function __() in /home3/regmount/public_html/possibiliteas.co/wp-content/plugins/gold-cart_plugin-2.9.7.8/merchants/paystation.php on line 2 [04-Jun-2017 11:30:49 America/Chicago] PHP Warning: PHP Startup: magickwand: Unable to initialize module Module compiled with module API=20060613 PHP compiled with module API=20090626 These options need to match in Unknown on line 0 [04-Jun-2017 11:30:49 America/Chicago] PHP Warning: PHP Startup: imagick: Unable to initialize module Module compiled with module API=20060613 PHP compiled with module API=20090626 These options need to match in Unknown on line 0 [04-Jun-2017 11:30:49 America/Chicago] PHP Warning: PHP Startup: PDO: Unable to initialize module Module compiled with module API=20060613 PHP compiled with module API=20090626 These options need to match in Unknown on line 0 [04-Jun-2017 11:30:49 America/Chicago] PHP Warning: PHP Startup: pdo_sqlite: Unable to initialize module Module compiled with module API=20060613 PHP compiled with module API=20090626 These options need to match in Unknown on line 0 [04-Jun-2017 11:30:49 America/Chicago] PHP Warning: PHP Startup: Unable to load dynamic library '/opt/php52/lib/php/extensions/no-debug-non-zts-20060613/sqlite.so' - /opt/php52/lib/php/extensions/no-debug-non-zts-20060613/sqlite.so: undefined symbol: third_arg_force_ref in Unknown on line 0 [04-Jun-2017 11:30:49 America/Chicago] PHP Warning: PHP Startup: Unable to load dynamic library '/opt/php52/lib/php/extensions/no-debug-non-zts-20060613/pdo_mysql.so' - libssl.so.0.9.8: cannot open shared object file: No such file or directory in Unknown on line 0 [04-Jun-2017 11:30:49 America/Chicago] PHP Warning: PHP Startup: SourceGuardian: Unable to initialize module Module compiled with module API=20060613 PHP compiled with module API=20090626 These options need to match in Unknown on line 0 [04-Jun-2017 11:30:49 America/Chicago] PHP Deprecated: Directive 'register_globals' is deprecated in PHP 5.3 and greater in Unknown on line 0 [04-Jun-2017 11:30:49 America/Chicago] PHP Fatal error: Call to undefined function __() in /home3/regmount/public_html/possibiliteas.co/wp-content/plugins/gold-cart_plugin-2.9.7.8/merchants/paymentexpress.php on line 3 [04-Jun-2017 11:56:53 America/Chicago] PHP Warning: PHP Startup: magickwand: Unable to initialize module Module compiled with module API=20060613 PHP compiled with module API=20090626 These options need to match in Unknown on line 0 [04-Jun-2017 11:56:53 America/Chicago] PHP Warning: PHP Startup: imagick: Unable to initialize module Module compiled with module API=20060613 PHP compiled with module API=20090626 These options need to match in Unknown on line 0 [04-Jun-2017 11:56:53 America/Chicago] PHP Warning: PHP Startup: PDO: Unable to initialize module Module compiled with module API=20060613 PHP compiled with module API=20090626 These options need to match in Unknown on line 0 [04-Jun-2017 11:56:53 America/Chicago] PHP Warning: PHP Startup: pdo_sqlite: Unable to initialize module Module compiled with module API=20060613 PHP compiled with module API=20090626 These options need to match in Unknown on line 0 [04-Jun-2017 11:56:53 America/Chicago] PHP Warning: PHP Startup: Unable to load dynamic library '/opt/php52/lib/php/extensions/no-debug-non-zts-20060613/sqlite.so' - /opt/php52/lib/php/extensions/no-debug-non-zts-20060613/sqlite.so: undefined symbol: third_arg_force_ref in Unknown on line 0 [04-Jun-2017 11:56:53 America/Chicago] PHP Warning: PHP Startup: Unable to load dynamic library '/opt/php52/lib/php/extensions/no-debug-non-zts-20060613/pdo_mysql.so' - libssl.so.0.9.8: cannot open shared object file: No such file or directory in Unknown on line 0 [04-Jun-2017 11:56:53 America/Chicago] PHP Warning: PHP Startup: SourceGuardian: Unable to initialize module Module compiled with module API=20060613 PHP compiled with module API=20090626 These options need to match in Unknown on line 0 [04-Jun-2017 11:56:53 America/Chicago] PHP Deprecated: Directive 'register_globals' is deprecated in PHP 5.3 and greater in Unknown on line 0 [04-Jun-2017 11:56:53 America/Chicago] PHP Fatal error: Call to undefined function __() in /home3/regmount/public_html/possibiliteas.co/wp-content/plugins/gold-cart_plugin-2.9.7.8/merchants/vmerchant.php on line 3 [04-Jun-2017 12:13:10 America/Chicago] PHP Warning: PHP Startup: magickwand: Unable to initialize module Module compiled with module API=20060613 PHP compiled with module API=20090626 These options need to match in Unknown on line 0 [04-Jun-2017 12:13:10 America/Chicago] PHP Warning: PHP Startup: imagick: Unable to initialize module Module compiled with module API=20060613 PHP compiled with module API=20090626 These options need to match in Unknown on line 0 [04-Jun-2017 12:13:10 America/Chicago] PHP Warning: PHP Startup: PDO: Unable to initialize module Module compiled with module API=20060613 PHP compiled with module API=20090626 These options need to match in Unknown on line 0 [04-Jun-2017 12:13:10 America/Chicago] PHP Warning: PHP Startup: pdo_sqlite: Unable to initialize module Module compiled with module API=20060613 PHP compiled with module API=20090626 These options need to match in Unknown on line 0 [04-Jun-2017 12:13:10 America/Chicago] PHP Warning: PHP Startup: Unable to load dynamic library '/opt/php52/lib/php/extensions/no-debug-non-zts-20060613/sqlite.so' - /opt/php52/lib/php/extensions/no-debug-non-zts-20060613/sqlite.so: undefined symbol: third_arg_force_ref in Unknown on line 0 [04-Jun-2017 12:13:10 America/Chicago] PHP Warning: PHP Startup: Unable to load dynamic library '/opt/php52/lib/php/extensions/no-debug-non-zts-20060613/pdo_mysql.so' - libssl.so.0.9.8: cannot open shared object file: No such file or directory in Unknown on line 0 [04-Jun-2017 12:13:10 America/Chicago] PHP Warning: PHP Startup: SourceGuardian: Unable to initialize module Module compiled with module API=20060613 PHP compiled with module API=20090626 These options need to match in Unknown on line 0 [04-Jun-2017 12:13:10 America/Chicago] PHP Deprecated: Directive 'register_globals' is deprecated in PHP 5.3 and greater in Unknown on line 0 [06-Jun-2017 14:37:03 America/Chicago] PHP Warning: PHP Startup: magickwand: Unable to initialize module Module compiled with module API=20060613 PHP compiled with module API=20090626 These options need to match in Unknown on line 0 [06-Jun-2017 14:37:03 America/Chicago] PHP Warning: PHP Startup: imagick: Unable to initialize module Module compiled with module API=20060613 PHP compiled with module API=20090626 These options need to match in Unknown on line 0 [06-Jun-2017 14:37:03 America/Chicago] PHP Warning: PHP Startup: PDO: Unable to initialize module Module compiled with module API=20060613 PHP compiled with module API=20090626 These options need to match in Unknown on line 0 [06-Jun-2017 14:37:03 America/Chicago] PHP Warning: PHP Startup: pdo_sqlite: Unable to initialize module Module compiled with module API=20060613 PHP compiled with module API=20090626 These options need to match in Unknown on line 0 [06-Jun-2017 14:37:03 America/Chicago] PHP Warning: PHP Startup: Unable to load dynamic library '/opt/php52/lib/php/extensions/no-debug-non-zts-20060613/sqlite.so' - /opt/php52/lib/php/extensions/no-debug-non-zts-20060613/sqlite.so: undefined symbol: third_arg_force_ref in Unknown on line 0 [06-Jun-2017 14:37:03 America/Chicago] PHP Warning: PHP Startup: Unable to load dynamic library '/opt/php52/lib/php/extensions/no-debug-non-zts-20060613/pdo_mysql.so' - libssl.so.0.9.8: cannot open shared object file: No such file or directory in Unknown on line 0 [06-Jun-2017 14:37:03 America/Chicago] PHP Warning: PHP Startup: SourceGuardian: Unable to initialize module Module compiled with module API=20060613 PHP compiled with module API=20090626 These options need to match in Unknown on line 0 [06-Jun-2017 14:37:03 America/Chicago] PHP Deprecated: Directive 'register_globals' is deprecated in PHP 5.3 and greater in Unknown on line 0 [06-Jun-2017 14:37:03 America/Chicago] PHP Fatal error: Call to undefined function __() in /home3/regmount/public_html/possibiliteas.co/wp-content/plugins/gold-cart_plugin-2.9.7.8/merchants/ideal.php on line 2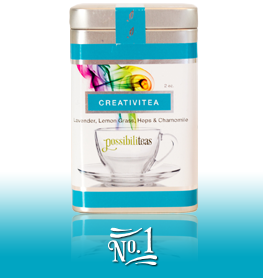 CREATIVITEA
When you need to conjure that next big idea and search for unexpected answers.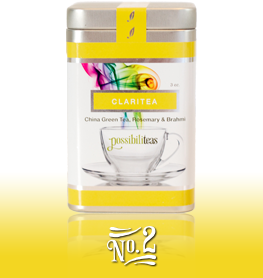 CLARITEA
When you need to bring focus and balance to your ideas and clear away mental clutter.
Learn More about our Teas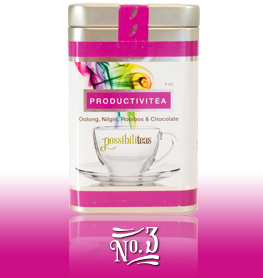 PRODUCTIVITEA
When you're ready to unleash your inspired gifts and enhance your work output, naturally.