Tea for Creatives: Jen Saunders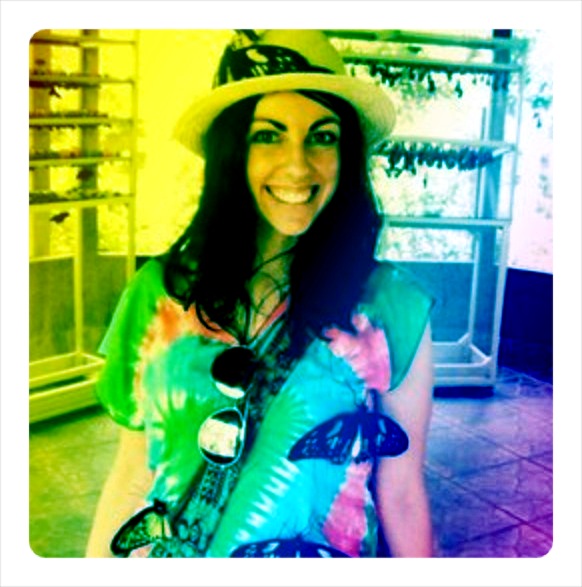 Meet Jen Saunders, a stargazing, rainbow riding, empowerment artist, the blogger behind My Smiling Heart, and the Founder/Editor-In-Chief of Wild Sister, an online empowerment magazine for women who want inspiration, and who believe that by empowering women we can change the world. Follow her on Twitter at @smiling_heart
Define creativity. What does it mean to you? And how has it inspired your career?
To me, creativity is freedom. It's being able to express myself in as many ways as possible, from wearing a colourful outfit to writing an article or painting a portrait. Creativity infuses every part of my life. This creative self-expression not only inspired my career, it is my career. I need creativity to write, paint and put every issue of Wild Sister Magazine together.
How do you navigate the creative process?
I really just follow my heart. Always. My ideas are usually inspired by something random, like a thought, quote, book, artwork, nature, or even a television show. If the idea really lights my fire, I drop everything and start working on it straight away, while the passion is there.
During the creative process, I spend a lot of time on the details. When I'm writing, I edit and change words, sentences and paragraphs until it all feels right.
When I'm putting the latest issue of Wild Sister Magazine together, I spend hours perfecting the layout, from font styles and fonts to article spacing, images and printables.
When I'm painting, I sit and stare at the canvas and imagine what I want to finished piece to look like, then add what it needs to achieve that look. It has to feel right to me, or I'll scrap it and move on.
With the magic of social media, I can now share this process with people, which I love. I use Instagram and my blog, My Smiling Heart, to share photos of works in progress and finished pieces.
My biggest obstacles have been creative blocks and self-doubt. Sometimes I push myself too hard and add a few too many tasks to my to-do list, which leaves me feeling low and completely burned out. I've started to give myself more time to relax and refuel; I stay offline on weekends, and that space away from emails and Facebook is amazingly uplifting. By the time Monday morning comes, I'm reenergised and enthusiastic about getting back to work.
In regards to self-doubt, I'm learning to trust my own inner voice and listen to it more than I listen to anyone else.
Artist Frida Kahlo is my absolute favourite creative figure. Her bold, colourful, and intense artworks were painted with such powerful and raw emotions, and she never edited herself in her self-portraits. Frida wasn't afraid to show the world who she really was, and even through all her pain and struggle, she never lost her passion for art. Her bravery in art inspires me everyday, and encourages me to be authentic in everything I do.
If you could choose one quote as your life mantra, what would it be?

I have so many favourite quotes, but the one that I live by most is this:
"Don't ask what the world needs. Ask what makes you come alive, and go do it. Because what the world needs is people who have come alive." ~ Howard Thurman
The Tea for Creatives series celebrates the creative minds that Possibiliteas seeks to serve with its brews. We aim to bring the creative community insightful and eye-opening profiles of the best and brightest creative professionals across various industries. Join us on Facebook and Twitter for more conversations on creativity.
Tags: blog, Jen Saunders, magazines, My Smiling Heart, publishing, Wild Sister Magazine, women's empowerment
Trackback from your site.